What We Do
At The Business Movers we take care of all types and sizes of commercial removals, from small office removals to entire business relocations, no job is too large or too small, and with our secure 24/7 suveillanced storage facilities, we can assist with removals that might catch you unexpectedly short of space or time.
Business Continuity
And, our logistics team will construct a removal plan that fits with your critical business needs; whether that means keeping a communication flow open with your client base or simply getting you settled in your new premises as soon as physically possible, we will work to ensure that downtime is kept to an absolute minimum.
How We Do It
As commercial removals specialists operating in the West Midlands area and throughout the UK for many years, we have assisted in the relocation of hundreds of businesses across the full range of sectors; from Public Sector removals through to private sector manufacturing and commercial office re-locations.
Contact The Business Movers today & Tell us about your office move...
Hassle-Free Office and Commercial Re-Location Services…



Your Birmingham Business relocation can be a daunting and also time-consuming  job. The Business Movers are highly experienced removals specialists who will carefully plan and execute your relocation; taking care of all loading, the transportation of all your office or business equipment together with any stock, to your new chosen premises. Our Service is designed to manage your re-location end to end making your move entirely hassle-free.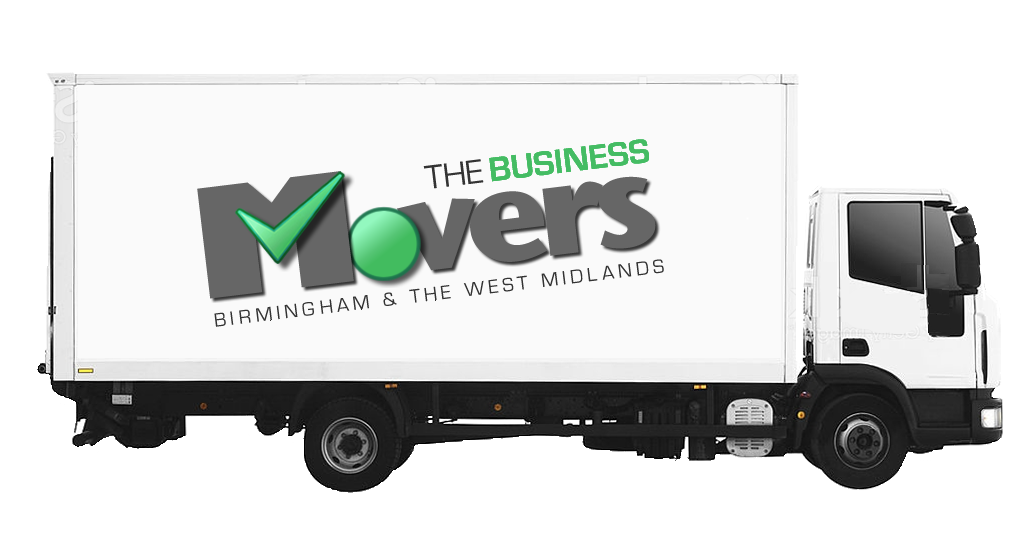 Office Removals Birmingham – Efficient Commercial & Business Re-location Services West Midlands

PACKING
Our professional team of skilled relocation specialists pride themselves on paying the very closest attention to the packing for transit of your most fragile commercial equipment. Using custom blankets and padding for expensive IT equipment, we will ensure your desktops, servers and other electronic items are relocated totally unscathed by the move.
REMOVAL
Our Removals Service is comprehensive… and whether required on the day of your relocation or beforehand, the dismantling of your office furninture is safe in our hands, and of course this includes re-assembly in-situ at your new location – Or, should have new furniture planned for your office, then we can also collect, deliver and assemble this for you too…
TIME MANAGEMENT
Our Business Movers project managers will ensure that your re-location plan is finely tuned to minimise downtime and to keep your office removal to schedule; all of our re-location plans are formalised with contingencies to allow for the unexpected including 'busy' traffic routes between your existing office and your destination premises.
END-TO-END
Absolutely everything we offer within our re-location services is completed or handled by ourselves, from packing to transportation, storage, furniture assembly, collecting and loading, not one process is outscourced to a third party. Our staff from start to finish are fully responsible for ensuring  your move goes as smoothly as possible.